Jean Greenhowe's Jemima- Jane and Friends (28 pages)

Click here to return to Jemima-Jane and Friends pictures

Take a step back in time with this lovable collection of old-fashioned dolls and teddy bears.
Jemima-Jane is dressed in the 19th century 'rag doll' tradition, with a variety of clothes and hair accessories. She measures a splendid 51cm (20in) in height. Knitted dressing-up dolls often end up looking somewhat peculiar because the designs begin with the doll itself then many layers of bulky clothing are added. Jean has cleverly got around

this problem by knitting-in the dainty shoes and blouse bodice as parts of the doll.

The illusion works beautifully when combined with the six removable items which include two hair accessories. Jemima-Jane's legs are jointed at the top so she can sit down perfectly. Can't you just see her nestled into a pillow on the bed or sitting comfortably in an old armchair - a wonderful doll to please your visitors or a gift for someone special.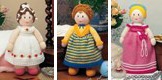 Miss Amelia , Christabel and Sophie continue the nostalgic theme. Each one measures 29cm (11½in) and like Jemima-Jane they also have jointed legs. Charmingly presented as fashion dolls, they are dressed in Victorian-style underwear, day wear and evening wear and all have different hair styles. Miss Amelia's coiffure is particularly enchanting with her 'rag curlers' and top knot pony tail. We are amused to think that older knitters are going to have fun explaining what curling rags are to today's young ladies. It might even end up with a demonstration! When you look at Miss Amelia's skirt you may wonder how you are going to manage to space out the rosebuds evenly. The answer is that Jean has marked the positions with stitches as the skirt piece is knitted, so you can't possibly go wrong.

The Tiny Topsy-Turvy Dolls are three miniature dolls just 17cm (6¾in) in height, requiring only small oddments of yarn. Little girls just adore the topsys - what a lovely surprise to find that there are two dolls in one and each skirt can be reversed in a jiffy, to reveal the 'hidden' doll. The theme for the Topsys is flowers and plants. In the illustrations you

will see that Holly reverses to Ivy, Buttercup to Daisy and Pansy to Rose. These dolls can be displayed beautifully because they stand up by themselves on the two double-hemmed skirts.
A hug of miniature Teddy Bears features Hartley, Babette and Bearysmall. Since the first soft toy bears were produced in the early part of the twentieth century, teddies have become firm favourites with children and adults alike. Here is a trio of teddies designed to look exactly like those treasured old bears from long ago.

Bearysmall is only 5cm (2in) high - the cutest little bear you will ever knit! He fits into the palm of a small hand or a tiny pocket and is sure to bring out the 'aah' reaction in people -

and maybe a tear to the eye.
The middle-sized bear Babette, is delightfully fashionable in her chic wide-brimmed hat, trimmed with knitted feathers and pink roses. To complete the ensemble she wears a pale pink feather boa. We'll keep you guessing as to how you can create the feathery effect on the boa. Babette measures 9cm (3½in) high.
Hartley is the largest of the three at 11cm (4¼in) in height. He wears a jaunty scarf monogrammed with the initial H. Jean called him Hartley because the name conjures up a picture of a steady, reliable fellow and we think the name suits him perfectly.