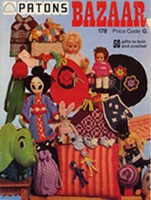 In the 1940s knitting patterns were featured in women's magazines and the yarn manufacturers also published numerous patterns to promote sales of their products. During the 1950s and 1960s the quantity of garments produced resulted in small bits of yarn left over from every project. So the manufacturers began to publish 'bazaar' booklets and leaflets with patterns for small items such as tea cosies, cushion covers, dolls and toys, for using up the oddments. The booklet shown here is from the 1960s. These patterns were only produced as an 'economy' service to knitters and unlike garment patterns, they were of no importance in the knitting industry.


Tea cosies and other useful related items had always been part of traditional knitting craft since the first patterns were published in the nineteenth century. But when the first toy patterns were introduced at some unknown date in the past there weren't any established methods for creating three-dimensional objects, so who designed these toys and how did they go about it? I have not found any credited names in the oldest patterns, but it can be presumed that they were produced by garment designers and perhaps home-based knitters. As to the construction, from my research it is evident that the majority of patterns were copied from commercial paper patterns for rag dolls and soft toys which had been available since the Victorian era.
The toy pieces in these knitting patterns were most frequently worked in garter stitch which lies flat, indicating that they were reproduced from flat paper pattern shapes. The Murray/Koster duck mentioned previously is a 'paper pattern' production. It is made from four separate pieces and knitted in moss stitch, which also lies flat like garter stitch.


Before the advent of computer technology knitted garments were designed on graph paper. Therefore, the soft toy paper patterns could be turned into knitting patterns by transferring each piece onto the squared paper. Although the paper shapes had smooth continuous edges, the graph versions would have been translated into steps for the increases and decreases and the straight lines became cast on and cast off edges. All the knitted shapings were at the outer edges of the pieces. The finished graphs could then be used to write line-by-line instructions, according to the yarn and the required knitted tension.

Below are some of the diagrams for a 1990s knitted animal, with steps etc as described above. Alongside, there is a graphed diagram for the placement of two star motifs on a knitted sleeve, which also shows the stepped row-by-row shaping.