The MacScarecrow Clan Storybook (64 pages)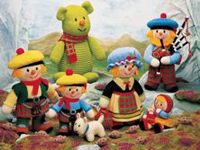 The MacScarecrow Clan knitting booklet introduced the MacScarecrows of Glen Sunnybogle with the story, 'Wee Sproot Meets The Monster'.
We have now published three further stories in a hardback book - limited edition of 2,000 copies.
Within the 64 pages of the storybook you will meet Scotty and Morag, their children Wee Sproot and Baby Bonnie, the sweet little dog Scamp, the yarn-spinning Great Uncle Angus and Big Bobby, the very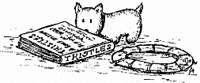 un-scary monster!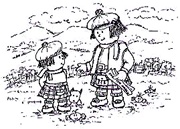 Jean's daughter Victoria wrote the heart-warming stories while Jean's illustrations are in the classic tradition of delightful pen and ink drawings.
Every copy is personally signed by Victoria and Jean.
Fun for all ages, the book includes many quaint Scottish words and a glossary for translation. For instance, did you know that in Scotland a fernitickle is a freckle? Or that a forkietail is an earwig? But as Uncle Angus would no doubt say, 'porridge is just braw (fine) in any language!'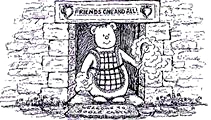 Read more of Uncle Angus' home-spun wisdom in his cheery Introduction.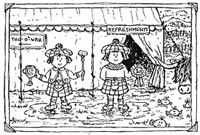 With lots of amusing detail, the stories are full of Scottish oatcake goodness.
In Happy Birthday Uncle Angus Wee Sproot has a mysterious mystery to solve. Exactly how old is Uncle Angus? Sproot searches high and low and in-between for the answer. Join him on an adventure which features toffee tiddlers, an ancient knitted swimming costume and many clues that just might solve the puzzle.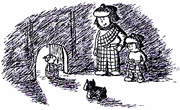 It Spells Disaster begins when a Really Important

MacScarecrow Heirloom goes missing. According to ancient legend the loss will bring D.I.S.A.S.T.E.R.! Poor Uncle Angus is in a right old peely-wally plouter, Scamp is terrified of being DOOMED but luckily Sproot is ready to save the day in this intriguing tale of secret passages, cobwebs and a new cheese-loving friend.
One dark and stormy night Uncle Angus is

entertaining Sproot and Scamp with the incredible story of Cousin Flora - fearless heroine of Crumbley Island. Suddenly,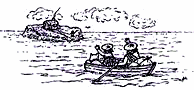 a note arrives from Flora. She needs help!

And before you can say 'all hands to the deck' it's Sproot, Uncle Angus and Scamp to the rescue! Enjoy this action-packed story of courage, a brave birdie called Bosun and the dreaded Topsy-turvy Trickyitus. And just where do those elephants come in? All will be revealed ...

Your knitted dolls and the storybook would make a superb gift and a unique family heirloom to treasure.
This one and only first edition will not be repeated - buy now while stocks last!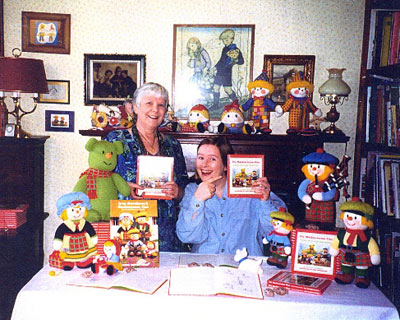 The MacScarecrow Clan storybook is available directly from Jean Greenhowe Designs.

The price per copy including postage and packing is -
| | |
| --- | --- |
| United Kingdom | £8.00 |
| Europe | £10.00 |
| Rest of the World | £11.50 |
We can only accept payment by personal cheque in British Pounds Sterling drawn on a UK bank or by bankers draft in British Pounds Sterling. Cheques and bankers drafts should be made payable to Victoria Greenhowe and should be mailed to Jean Greenhowe Designs, PO Box 295, Aberdeen, AB11 6NW, Scotland, United Kingdom.

Orders will be despatched within 14 days.