Jean Greenhowe's Christmas Special (28 pages)
Click here to return to Christmas Special pictures.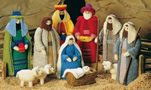 This booklet is packed with exciting seasonal designs, all guaranteed to set your needles clicking.
Our classic Christmas Crib beautifully illustrates the story of the Nativity. The scene includes Baby Jesus in the manger, Mary and Joseph, The Three Wise Men, shepherds and sheep.
All the crib figures are extremely easy to knit. The basis for each standing figure is a tube-shaped piece of knitting and when the sleeves and other garments are added, the end result is perfection.
Mary is a superbly designed seated figure, requiring only two basic knitted pieces - one for the skirt and one for the bodice and head. When you knit this figure you will really appreciate the clever way in which it is constructed. The standing figures are 20cm (8in) in height and Mary measures 14cm (5½ in).

By popular demand Jean has also created a donkey for the crib, which is featured in our other Christmas

publication - Christmas Treasures.


Throughout the festive season our crib can be seen on display in family homes, churches, hospitals, retirement homes and shop windows. We have no doubt that numerous cribs will be handed down through the generations as heirlooms.
Santa and Mrs Claus are a jolly pair of Christmas characters sure to become firm favourites with your family. Measuring about 34cm (13½in), make them as stand-up decorations, or cuddlesome toys.

Cinderella is a must-have topsy-turvy doll measuring 28cm (11in) in height. Transforming her from 'sad' with patched clothes to 'happy' in her beautiful ball gown is an absolute delight. Cinderella is one of Jean's most popular dolls loved by children and adults, she would make an enchanting gift for someone special.

Most Christmas stockings are usually designed like real stockings with the complications of knitting-in-the-round, turning the heel, etc. But Jean's Christmas stockings are extremely easy to knit because they are made in one piece on two needles, with the simplest of shapings. They can be decorated

in four different styles for everyone in the family. There is also a bootee-style stocking using the same pattern, to celebrate Baby's First

Christmas. The initial B for baby can be customised to suit any name. A wonderful keep-sake for a special baby.


Hugable Best Friends - Polar Bear and Reindeer can be made as soft toys, gifts or decorations. You will be surprised by the simple construction of the reindeer's curvy antlers. They both measure a seated 22cm (8¾ in) in height.



Our eight Christmas Tree Trims include candy canes, baubles, bells and garlands. They can be made quickly and easily using oddments of yarn. The bell measures 8cm (3in). There are seven more tree trim designs in our Toy Collection booklet.

Mr and Mrs Frosty the snowpeople, measure 20cm (8in) in height, including their hats. And you don't have to bother making the hats because they are knitted-in as extensions of the heads. Just knit and add the brims and hey-presto perfect hats every time.

Little Robin Redbreast sits on a log surrounded by knitted holly and pine cones. The white snowy base is in fact a surprise pocket designed to contain any item which can fit into an envelope - such as a gift voucher or money. And by the way, when you knit the pine cones you will be amazed at how that odd-looking flat piece of knitting turns into a realistic reproduction of the real thing - like magic! The base measures 12cm by 15cm (4¾in by 6in).


The Last Minute Dolls are just that - almost 'night before' Christmas stocking-fillers or tree trims, just 8.5cm (3¼in) high. There are seven sweet designs, all made from the same basic pattern - Santa and Mrs Claus, Snowman, Christmas Fairy, Toy Soldier, Elf and Clown.



Three tea cosies are featured, to bring a touch of Christmas cheer to the breakfast table. There are no complicated shapings and the pattern gives three different sizes and decorations. There is even a Christmas pudding with sauce topping and holly.

The hand-muff recalls the Victorian era and comes in the shape of a snow-covered yule log with a robin and holly on top. It is knitted on large needles using three strands of yarn together, so it really does keep little hands cosy and warm. For extra protection there are end-pieces which fit around the wrists. The muff measures 20cm (8in) in length and would make a welcome gift for any little girl at Christmas time.