Jean Greenhowe's Young Alf's Pals (32 pages)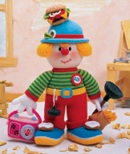 Click here to return to Young Alf's Pals pictures
In 1995 Jean designed The Tradesmen Clowns. One of the characters featured in this booklet was Young Alf, the tradesmen's apprentice.
With Alf Jean created a smaller Red Nose Gang figure. Here he is with cheeseburger and chips, comical red nose radio, donuts and other amazing accessories. It was inevitable Jean would conjure up some new friends for Alf and so in 1998 Young Alf's Pals arrived on the scene! Each character measures 39cm (15½in).

You only have to look at these five fabulous characters to appreciate Jean's

talent for humorous inventiveness. There's Young Wilf for a start with his sailor suit and knitted sand castle, bucket and spade. You can tell how much he loves to be beside the seaside. Wilf is accompanied by Colin, The Red Nose Cockle and Captain, The Red Nose Crab - little design gems in their own right.
Young Sweetie is decked out in the most yummy of sweet treats - even her buttons are liquorice allsorts and those pin-wheel lollypops are so easy to make. As you can imagine, Sweetie is very popular with the rest of The Gang.

Young Mabel likes nothing better than rambling around the countryside. Happily,

with the signpost on her hat she is sure never to get lost. Mabel loves watching the birdies with her binoculars but what is she carrying in her rucksack? Why, lunch of course. Her picnic includes cheese sandwiches and ginger biscuits in a 'paper' bag plus a knitted vacuum flask of tea.
Whizz ... watch out! Here comes Young Elsie scooting along on her roller skates, skipping and yo-yoing

- sometimes all at the same time! She never stops still. Young Alf calls her The Rainbow Tornado and we're not surprised. You can tell that she also has lots of adventures with her friend
Horace, The Red Nose Hobby Horse. He's such a fun fellow with his harness and cosy scarf.
Crash, bang, wallop ... meet Young Ernie, a One Boy Band extraordinaire. What a racket he makes with the washboard and thimbles, bells on his shoes, a kazoo, horn, pan lid and buttons on his hat. Oh, and he also plays the spoons! And that's not all - just look at Ernie's back view and his knitted biscuit tin drum. He loves entertaining the other Gang members with a 'noisy' musical repertoire.