Jean Greenhowe's Christmas Treasures (40 pages)

Click here to return to Christmas Treasures pictures.
Christmas Treasures is our second booklet on a Christmas theme, and is our biggest publication to date, with 40 pages packed with gifts,

dolls, decorations and novelties.
The Carol Singers make a charming centre piece for your festivities. Dressed in Victorian-style costume, these sweet children stand up unsupported. The boy measures 26cm (10¼in), the girl is slightly smaller. Her crinoline skirt stands out beautifully, without any stiffening material, because a knitted petticoat gives the 'crinoline' effect.
Jean has a small collection of old dolls, two of which are antique wooden peg dolls. These penny woodens were produced in the Victorian era as toys for poor children, who dressed them in scraps of fabric and trimmings. Yet one very rich girl chose to dress a large number of these simple dolls. That little princess was later to become Queen Victoria. Her wonderful collection of peg dolls is at present housed in the Museum of London.

Eliza is Jean's exquisite knitted version of a Victorian penny wooden. She measures 34cm (13½in) and is a truly unique creation - a must for all doll enthusiasts.

References to Jack Frost date back to the early 19th century. As you may know, he is the fellow who paints beautiful crystal patterns on our windows when the weather conditions are just right. Jack Frost can be made as a cuddly doll or a seasonal decoration. He measures 31cm (12¼in) in height without his cap. Jack's blue and white colour scheme reflects the wintry atmosphere, but of course like all Jean's dolls he has warm, rosy cheeks!

Mr Twizzle the snowman is a comical character - with his mis-matched and patched outfit, he is quite irresistible. Just look at that precarious 'slide' of knitted snow on his battered top hat and his odd mittens and socks. The same size as Jack Frost and based upon the same pattern, Mr Twizzle can turn into a party snowman when given a roomy knitted sack and Christmas stocking. Fill these with sweets, candy sticks and lollypops for the children.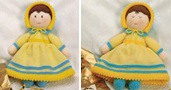 Any little girl would love to wake up on Christmas morning and find Hush-A-Bye-Baby in her stocking. This is another of Jean's novelty surprise dolls. But she looks like an ordinary doll - so what is the surprise? Well, this darling dolly can be wide awake one minute and fast asleep the next, because the head has two faces and a pretty bonnet covers the reversed face. Hush-A-Bye-Baby measures 26cm (10¼in) in height.

The Pixie Patch shows a trio of impish characters having a happy time building a snow pixie. One has jumped inside a knitted plant pot while another has rolled a huge snowball. They all measure 15cm (6in) high.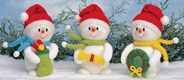 The cute Little Snow Folk can be made as soft toys, stocking fillers or decorations. They all have Santa hats and bobble-trimmed scarves. Each one holds an accessory - a stocking, cracker and holly wreath, which can also be knitted as trims for a miniature tree. These characters measure 13cm (5in).

Meet The Poppets - a Snowman, Santa, Scarecrow and Clown. These are unusual novelty dolls because nearly all the pieces are simply small knitted balls threaded onto lengths of yarn. Make them as stocking fillers, tree trims and mascots or fix them on a Christmas wreath. They

measure 12cm (4¾in) high.
For Christmas dinner why not knit a pretty set of Christmas Napkin Rings decorated with holly leaves and berries. The basic ring is a strip cut off a plastic soft drinks bottle.

Also included for the table is a novelty design for Party Place Markers. Measuring 8cm (3in) square, these little sacks will delight your guests when they discover they are filled with chocolates! Or why not fill the sacks with sweets as an ideal take-home gift for childrens' parties and Christmas events.
Christmas presents don't necessarily have

to have a seasonal theme and Jean therefore designed four elegant miniature ornamental hats, which can also be made as pin cushions. The Four Seasons Hats measure 10cm (4in) in diameter and are trimmed with holly and feathers, tiny apples and flowers. Instructions are also given for hat stands so they can be displayed.
And now we come to The Donkey - perhaps one of Jean's most requested designs ever.

In 1991 we published Jean Greenhowe's Christmas Special which featured a Christmas Crib scene with baby Jesus, Mary, Joseph, shepherds, wise men and sheep - but no donkey. Over the next 10 years Jean was overwhelmed with letters from knitters asking for a donkey for the Crib and so finally - here he is.
Please note - Christmas Treasures only contains instructions for the donkey. Mary and Jesus are shown in the picture but their instructions are in Christmas Special.